Unfortunately, the VITA tax program has been suspended at this time due to the COVID-19 mandates and all scheduled appointments have been cancelled. We want to be conscious of your safety and the safety of our volunteers, while we try to stop the spread of the virus in our community. We know that this may pose a hardship for many of our clients and we will contact you if we are able to resume services. Please call (413)442-3181 if you have any questions. 
IRS COVID-19 Updates: https://home.treasury.gov/coronavirus
Free online filing services: www.myfreetaxes.com 
Taxpayer Advocates: www.taxpayeradvocate.irs.gov (978)805-0745 , (617)316-2690
Volunteer Income Tax Assistance (VITA)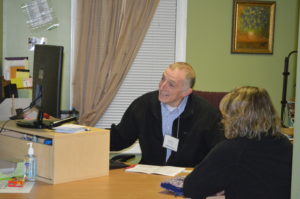 The Volunteer Income Tax Assistance (VITA) program offers free tax preparation for households making $56,000 or less, persons with disabilities, the elderly, and limited English-language speakers. IRS-certified volunteers provide one-on-one federal and state tax return preparation with fast, electronic filing. To see if you qualify check out our out-of-scope list or call our office at (413) 442-0002. Central Berkshire Habitat operates VITA sites in South, Central, and Northern Berkshire county with appointments available 6 days a week. To make your appointment today, please call our office at (413) 442-0002. 
If you have already scheduled your appointment you can fill out the informational intake form ahead of time or wait for one of our intake specialists to assist you when you arrive. To reschedule your appointment, cancel your appointment, or to ask a tax question please contact our office at least 24 hours before your appointment time.