MANY WAYS YOU CAN GIVE
The Choice Is Yours
How will you make your impact? There are many ways to make a difference with Central Berkshire Habitat! Whether you make a charitable gift or donate materials and services, you'll be making a difference for families in Berkshire County.
At Habitat for Humanity, we build because we believe that everyone, everywhere should have a healthy, affordable place to call home. When a family helps builds a place they can call home, they are also building a better community, a better life for themselves.
Meet Colleen. She's worked hard to have a home.
Colleen's son doesn't have a backyard where he can play ball. Their street is so busy he spends lots of time inside.
Enter her apartment and you're struck by how small it is. Her oldest son's bedroom is the living room—a blanket across the doorway gives him a small measure of privacy.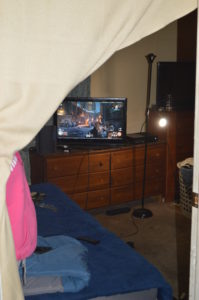 The rest: a small kitchen, a tiny bathroom, and two small bedrooms, one for Colleen and one for her teenage son.
Wires hang from the hall ceiling where a light fixture belongs. Ceiling tiles—removed after a flood—haven't been replaced. Windows are painted closed, propped open, or are so loose, they move freely when locked. Colleen depends on space heaters all winter.
There's a shortage of outlets. Each room depends on extension cords for lamps, space heaters, and appliances. Fuses trip on a regular basis. Then Colleen has to call her landlord. The electric panel is locked in the basement and he's got the only key.
Colleen works extra shifts, overtime, and weekends. She is doing everything she can to qualify for a three-bedroom Habitat house. She's paid off most of her debt and her credit score is good.
Colleen is doing everything she can so she can move her family into a new home in 2018. The rest is up to you.
If she asked you to invest in her children's future, would you say yes?
Your donation will help families in need of a decent place to build long-term financial security. With an affordable, stable home, families have more to spend on food, medicine, child care, education and other essentials. Your support can help us do more in all the many ways that Habitat builds.
Special Thanks to Our Sponsors: