Construction update as of April 27th-28th
Hello to all! This week we will be building on site!
Where: 199 East Housatonic Street, Dalton, MA, 01226
When: Friday 8am-noon, Saturday 8am-3pm
What: This weekend we will be cleaning and preparing a few different work sites and continuing our work on the foundation of the Dalton property.
Note: all team members will meet on the build site in Dalton even if they will be working off site. 
How: Please contact our Volunteer Coordinator Katiana Selens (kselens@berkshirehabitat.org 413-442-3181) if you would like to volunteer this weekend. This will allow us to have a proper head count and a suitable number of tasks prepared for the day. Thank you in advance!
Women Build Kick-off!
This Sunday, April 29th, we will be holding our annual Women Build Kick-Off Event! From 1pm-4pm our core volunteers will lead short trainings on the different tools and techniques we will be utilizing on site during Women Build. This training allows everyone to feel safe, confident and prepared for their build day!
The kick-off event is primarily held for those participating in our Women Build, though we would be happy to have as many eager and attentive participants as possible.
If you are interested in joining us this Sunday, please register by clicking on the "Register here" button below. We would love to have you learning, growing, and serving the community with us!
Where: 690 Merrill Road, Pittsfield, MA, 01201
When: 1pm-4pm Sunday, April 29, 2018.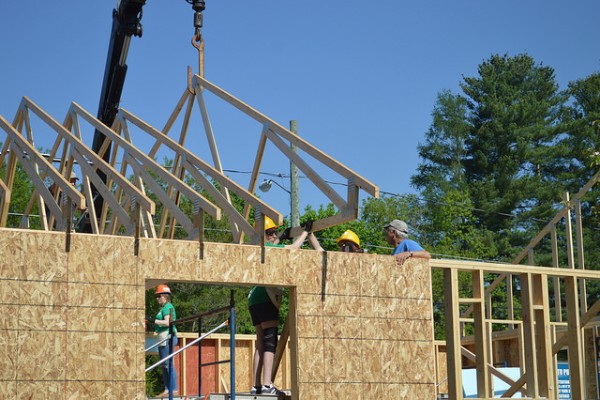 Behind the Scenes
Update: Volunteering During Women Build 
With Women Build upon us, we have held many discussions regarding our regular volunteers and our regular build days, as all of this shifts slightly during the months of May and June. If you are a volunteer who has been serving with us on Fridays and Saturdays please expect to be contacted by our volunteer coordinator Katiana. This will allow us to touch base regarding where our need for construction volunteers will fall during this time.
In this newsletter, we will be updating everyone on the work being completed by our Women Build teams each week. We are excited to track the progress these groups will be making throughout the next few weeks!
All Core Volunteers and Day Leaders should expect to be contacted independently regarding their involvement with Women Build. If you have any questions please reach out to Aliza Mendelowitz or to Katiana Selens amendelowitz@berkshirehabitat.org
kselens@berkshriehabitat.org
Or call 413-442-3181
3 Fun Framing Definitions
Balloon framing: In this framing style, wall studs extend from the foundation all the way to the roof of the house. This style is not common as the length of lumber needed for balloon construction has become expensive, and fire spreads quickly through the continuous walls.
Platform house framing: In this framing style, walls on each floor are independent of each other and rely on their own construction for stability. This technique limits the fire hazards and it makes it easier to work on the upper floors of a building.
Basement Framing: Basement framing is the process where a cement or concrete wall is overlaid with a more finished, more usable wall, which can be wired for electricity and insulated against the elements.
For more information check out: https://www.homeadvisor.com/r/framing-a-house/
Habitat for Humanity uses standard framing process in the homes that we build from scratch and we work with the existing framing in the buildings we renovate.