Unfortunately, the ReStore doors are closed to the public for all shopping and donations at this time. Please call (413)442-3181 if you have any questions about a donation pick-up. Central Berkshire Habitat is committed to the health and safety of all our customers, donors, and staff as the COVID-19 situation develops. Please help us stop the spread of the virus in our communities .
Check back in with us regularly for updates and consider supporting affordable housing during this tough time by donating below.
1. If you can fit it in your car bring it to  the ReStore at 399 Hubbard Avenue, Pittsfield, MA 01201
Donation Drop off hours:
Wednesday - Sunday 9 am to 4 pm
3. Schedule a pickup by calling 413-266-1144
2. Self-schedule by clicking the Schedule a Pickup button.
After you schedule your pickup, within 2-3 business days, the ReStore Manager will call to confirm the pickup.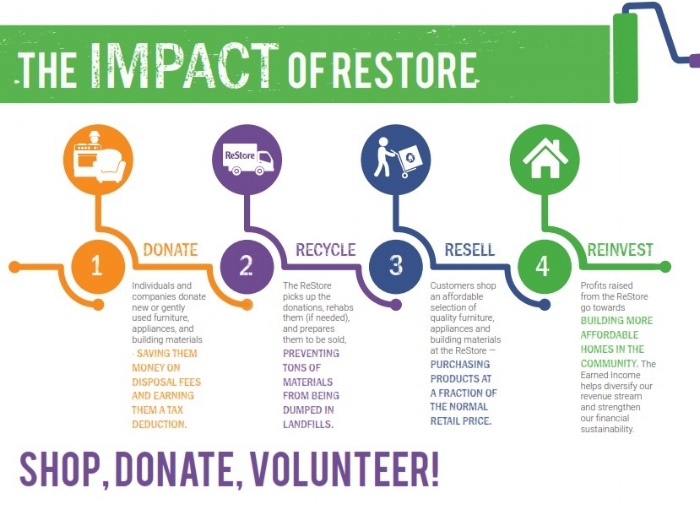 ReStore Donation
Remodeling, cleaning out, downsizing or just getting organized? Consider donating your excess household goods and building materials to the Habitat ReStore. You'll get the satisfaction of knowing your donations helped support local families-and didn't end up in the landfill. And all of your donations are tax-deductible.
For businesses, donating to the ReStore is a great way to move discontinued or excess stock, deal with gently used returns, and show your customers that you care about the environment and your community. Plus, we'll pick up your donated goods, which saves you time and money. You can review what type of donations we accept at the ReStore by clicking here.
If you have any questions, please contact Brendan, ReStore's Manager at 413-443-2106 or bfarrell@berkshirehabitat.org.