Construction Updates as of March 9th
Hello to all! This week we will not be building on site, though we are excited to be moving closer to that first day of demolition in Dalton. Today we will become better acquainted with our construction staff as we re-introduce our Americorps National Construction Crew Leader Brian Kozaczek! We will also update you on the status of our asbestos project in Dalton, celebrate a few notable anniversaries in the world of CBHFH, and learn more about springtime home maintenance projects we all can use!
Anniversaries
This week, we are excited to celebrate Sheerece Adam's first year in her new home! The build on 7 Hall place was one that allowed our organization to grow and expand with successes and challenges we had not experienced before and we are delighted be able to share this anniversary with Sheerece and her family.
This week is also the four year anniversary of the Hayden's living in their Habitat home. It is always rewarding for us to see how the many steps involved in the building of a house can culminate in the safety and comfort of a home for so many families.
Get To Know Brian 
Brian Kozaczek is Central Berkshire's Americorps National Construction Crew Leader. He has been serving with CBHFH since July of 2016, making him the longest serving Americorps member in our affiliate. Brian is our affiliate's 'Competent Person' (OSHA safety certified) which means you will find him making sure that our build sites are always safe and well maintained and that he will be your go-to person with all safety related questions. As the Construction Crew Leader, Brain has found a love for building, problem solving, and learning new techniques we can use for our builds. When he's not on site, Brian can be found learning about history, building, and music. In his own words, "come at me with some knowledge and we'll talk about how we can change the world, and build some cool stuff at the same time!" Next time you see Brian on site, be sure to say hello!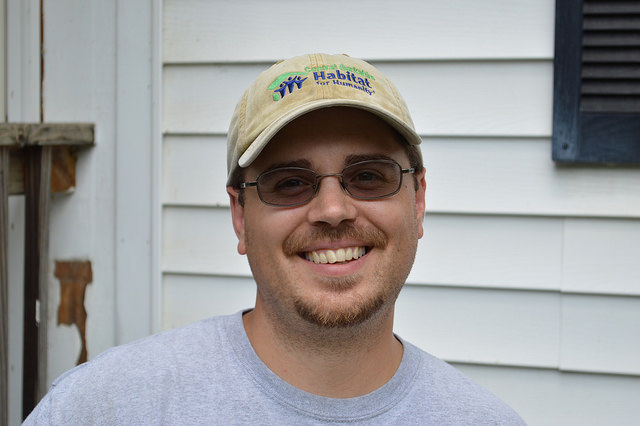 Behind the Scenes
Asbestos Update
This last week our construction manager, Mike Bedard, and one of our board members, Peter Samsel, examined the asbestos situation on the Dalton property with Mark Barile, of Barile Environmental. Mark Barile and his team are preparing an asbestos remediation project proposal that will allow us to cruise forward with the removal process within the next few weeks. Additionally, Roy Anderson, from Hill Engineering, examined the first floor framing and foundation in the Dalton home. This evaluation will allow us to consider fresh design options for the home.
Construction News You Can Use
This week in "Construction News...", we will be discussing landscaping and the health of your home's foundation. Proper landscaping around your home is an important step in home maintenance as a lawn that promotes drainage away from the house will help your foundation to stay dry, pest free, and strong for many years to come. It is important to clear dead plants away from your home and to promote the growth of deep-rooted and soil-securing plants which will help to increase drainage and mitigate erosion. Additionally, it is important to have land that slopes away from your home, as this will encourage all moisture to gravitate away from your basement/foundation. This slope may already exist or it can be created through grating or purposeful landscaping with stones and plants.