Construction Updates as of March 30th
Hello to all! This week we will not be building onsite. We will begin building on site next week! In today's newsletter we will review the big and exciting spring events happening here at Central Berkshire Habitat for Humanity. The big goings on include, our first build day in Dalton (April), Women Build (May), and an exciting build with Berkshire Bank (early June). We are bustling with activity, both in our office and in our ReStore, as we prepare for the influx of events and happenings we enjoy each spring and summer!
April Build Days 
As we find ourselves working on our first home in Dalton, we are excited to once again host individual and group volunteers on our construction sites. We host build days on Friday mornings from 8-noon, when we prioritize individual volunteer involvement. We also build from 8am-3pm on Saturdays, when we recommend volunteer groups serve with us. If you are interested in volunteering on site with us on a Friday in April please be in contact with Katiana Selens (kselens@berkshirehabitat.org 413-442-3181).
Women Build
It's getting to be that time of year again folks! From May 5th to June 16th, Central Berkshire Habitat for Humanity will be hosting our annual Women Build. Women Build is a fundraising campaign taken on by Habitat affiliates around the world which challenges women of all backgrounds to come together and devote at least one day to address poverty housing. Women Builders are asked to pledge or raise at least $100 each towards alleviating substandard housing in the Berkshires. Our goal with Women Build is to empower women to help families build strength, stability and self-reliance. Please note that individual volunteers/groups volunteering outside of Women Build who are still looking to volunteer are welcome to schedule dates for any time outside of the Women Build time period.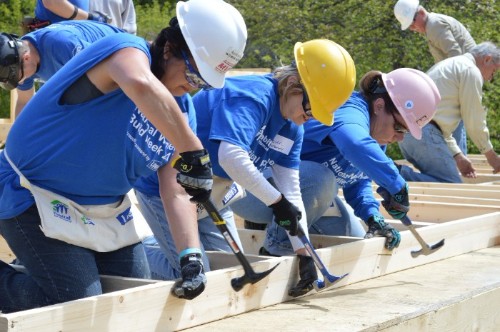 Behind the Scenes
Team Leader v.s. Team Member
Team Leader:
The team leader acts as the main point of contact between their volunteer group and Central Berkshire Habitat for Humanity. This individual will work with CBHFH staff to coordinate registration for their group members, organize lunch for the day, and work through any questions that can arise.
Team Member:
The team members are the meat and bones of our organization. These volunteers work with their team leader to register and prepare for their chosen build day. On the day of their group's build, they will arrive to the build site and spend the day working to build a world where everyone has a decent place to live.
Five Fun Construction Facts!
The Occupational Safety and Health Administration (OSHA) was created in 1970 to protect workers from unsafe workplaces and company practices
The construction industry spends approximately 900 billion dollars a year in the U.S.
Carpenter's pencils are flat so that they don't roll away
The average age of workers in the construction industry is 47
Habitat for Humanity is the #1 builder in the U.S.