Construction update as of March 24th
Hello to all! This week we will not be building onsite. In this week's newsletter we will make an exciting asbestos announcement, learn what to expect when you arrive on site and learn more about the foundation of your home!
Exciting Announcement:
We officially have the go ahead to start scheduling volunteers for build days starting in April! All volunteers, both groups and individuals, are encouraged to contact our Volunteer Coordinator, Katiana Selens, to sign up for a build day. You can also sign up using our website (Berkshirehabitat.org).
Katiana Selens: 413-442-3181, (kselens@berkshirehabitat.org)
Important Asbestos Update 
This coming Monday (3/26) Barile Environmental Inc. will begin the asbestos removal process on our property on East Housatonic Street in Dalton, MA. As many know, the extent and cost of the asbestos issue on this property has been delaying the project for the last few months. We are now very eager to begin and are thrilled to have our community involved with us both on and off site once again.
If you are interested in donating to help offset the $24,000 asbestos removal fee please follow the link below to be taken to our donations page or contact Dawn Giftos (Dgiftos@berkshirehabitat.org). We are excited to have you participate with us, be that swinging a hammer on site or providing a donation for the project or both!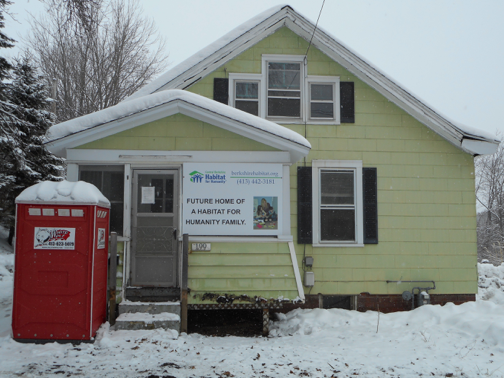 Behind the Scenes
What to Expect On the Build Site
When you arrive to the job site we want you to feel supported and prepared from the moment you arrive. Below is a list that will help you feel ready for each and every build day.
When do we build?
Friday 8am-12pm
Saturday 8am-3pm (lunch will be provided)
Who is on site?
Mike Bedard (Construction Manager)
Brian Kozaczek (Americorps Construction Crew Leader)
Aliza Mendelowitz (Americorps Volunteer Engagement Leader)
Day Leaders (Members will be introduced at the start of the day)
What to wear?
As we begin to work outside again, we highly recommend that all people wear layers. It is still quite chilly and we all know the weather seems to change at a moments notice! Please wear closed toe and closed heel shoes.
Four Fun Foundation Facts
1) The average weight of a home in the U.S. is 50 tons
2) The weight of an average foundation is 7.5 tons
3) Foundations in New England are usually 8 feet deep. This helps protect against frost heaves
4) A foundation functions like a snowshoe, rather than a weightlifter, as it disperses energy into the ground that surrounds it.