Construction Updates as of March 16th
Hello to all! This week we will not be building on site. In this newsletter we will update you on the small-scale projects we have been working on, take another look at our construction volunteer options and detail a few forms of spring home maintenance. We are grateful to have had the chance to briefly refocus our energies on these small and necessary projects as we continue to traverse this transitional period. These last few months have helped to highlight the elaborate process involved in the creation of a home, as the actual construction of the house is just one of many steps.
Greylock Federal Credit Union
Greylock Federal Credit Union has long been a partner with CBHFH and they have once again come through for their community. Greylock's three Habitat teams served with us for three days, and in that time they completed an initial cleaning of our Dalton property, sorted and organized curtains at the ReStore, and cleaned/organized one of our largest storage facilities! We were very grateful for all of the energy and strength these teams brought to the tasks we gave them this week! Thank you to all!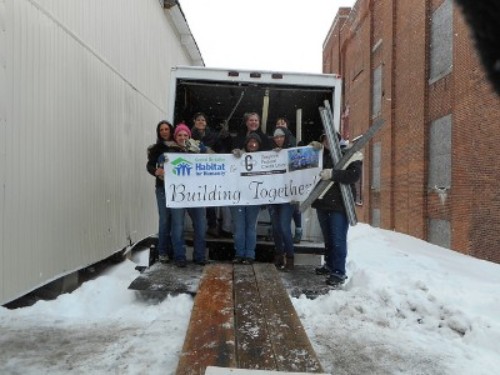 Behind the Scenes
Mentorship with Habitat
CBHFH is excited to offer a wide variety of volunteering options, all requiring different levels of experience, and involvement both on and off site. We offer Day Leader and Core volunteer positions, which are available for new and returning volunteers. Additionally, we are excited to offer varied opportunities during the week as specialized interest projects for interested volunteers. If you want to learn more about the capacities in which you can serve with CBHFH, please contact Katiana Selens (kselens@berkshirehabitat.org
413-442-3181).
Construction News You Can Use
This week we will cover tips and tricks you can use to conserve energy in your home, both in the winter and the summer months.
"Inspect weather-stripping around windows and doors. If needed, replace it to save energy and cut down on air conditioning costs
Clean dirt and dust from around the air conditioner compressor
Change your air conditioner filter
Inspect window and door screens and repair any holes"
-Cassie Brill "Checklist for a Trouble-Free Home"