Construction Updates as of Jan 19th
Hello to all! This last week has been a busy one! As we continue to occupy the interim between builds, we have been given the opportunity to attend to the smaller projects which can be forgotten when we are focusing on the construction of a family's new home. These smaller projects reflect our mission to create "a world where everyone has a decent place to live" on a different scale than we are usually able to participate in, and this gives us the unique opportunity to see how the upkeep of a home can be as important as the initial build. If you are interested in assisting with these smaller scale projects please contact Katiana Selens (kselens@berkshirehabitat.org or 413-442-3181).
MLK Jr. Day
January 15th marked CBHFH's annual partnership with Berkshire Community College for the national day of service in honor of Martin Luther King Jr. With members of the staff, faculty, and student body, as well as our own staff and Americorps members, we were able to complete many much needed refurbishing and rehabilitation projects within the Central Berkshire Habitat office. Our two superb teams focused on painting and demolition before we attended the sponsored luncheon at First Methodist Church. Our collaborative efforts allowed for us to create a brighter and healthier space for the community work and involvement we engage in every day.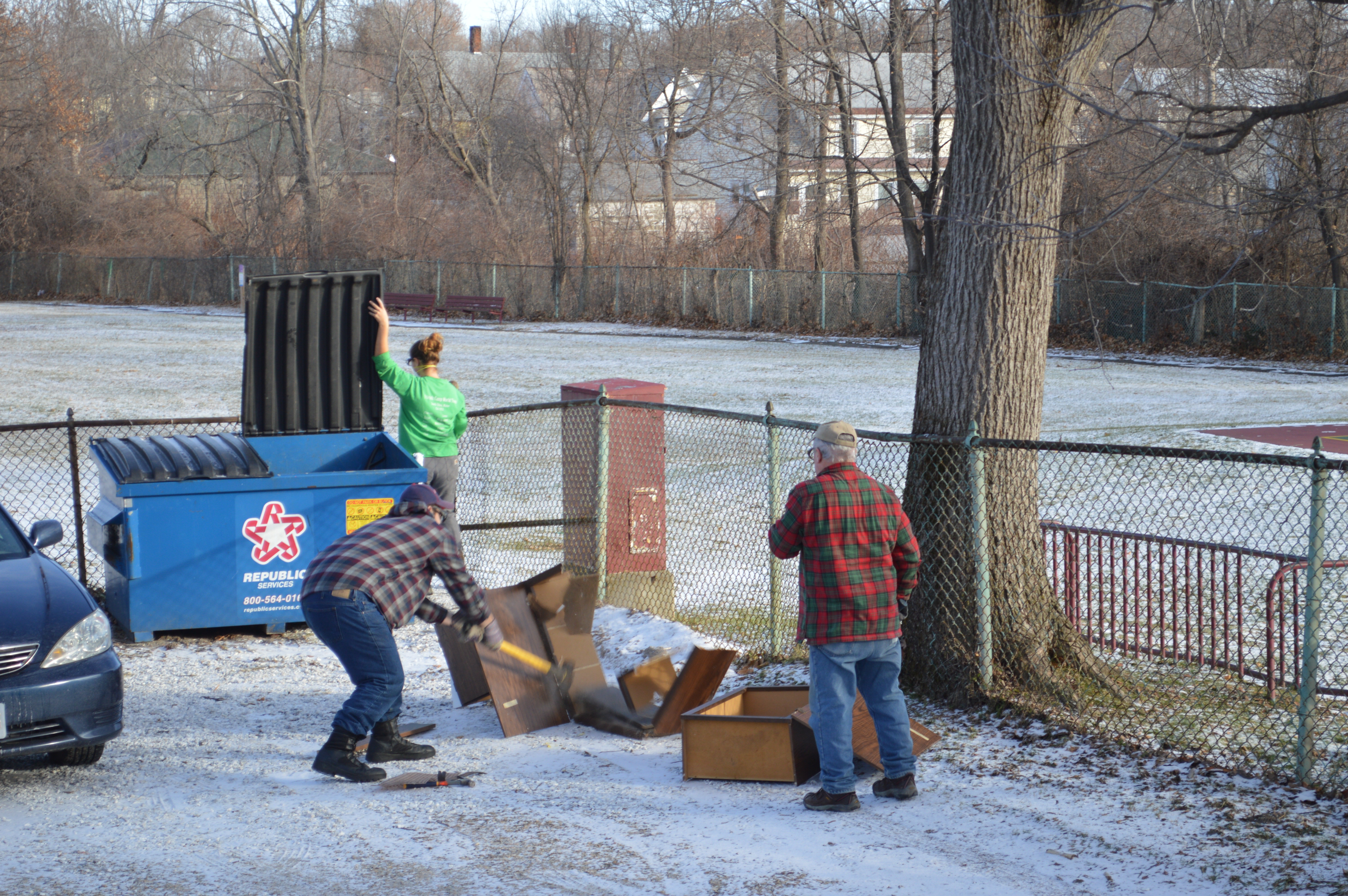 Core Construction Volunteer Positions
What is a Core Volunteer?
Core volunteers are members of the local, and more distant communities, who volunteer their time and expertise for a variety of tasks necessary for building safe, sustainable, and functional homes. This includes but is not limited to, pulling permits, drawing blueprints, and consulting with staff within the context of their unique backgrounds and knowledge bases. Core volunteers serve on a regular basis, usually weekly (Fri/Sat) participating in all job site activities. These volunteers also have the opportunity to serve on committees and act in a more involved capacity with Habitat if that is where their interests lie. If you are interested in becoming a core volunteer for CBHFH, please contact Katiana Selens (kselens@berkshirehabitat.org or 413-442-3181).
What is a Day Leader?
Day leaders are Core volunteers who have a distinct interest in teaching and mentoring all volunteers and participants on the job site. Day leaders will spend their time on the job site assisting with the variety of tasks occurring at any given time on site, with an eye towards safety, efficiency, and fun for everyone on site. If you are interested in this particular track of core volunteerism, please contact Katiana Selens (kselens@berkshirehabitat.org or 413-442-3181).