Construction update as of April 20th-21st
Hello to all! This week we will be on site! Please note: we will only be open for volunteers on Friday. The site will be closed for a private volunteer group on Saturday.
Where: 199 East Housatonic Street, Dalton, MA, 01226
When: Friday 8am-noon
What: This weekend we will be cutting through an old timber mudsill, breaking apart a brick foundation, and drilling into a field stone foundation. We will also have teams filling dumpsters and cleaning the surrounding area.
How: Please contact our Volunteer Coordinator Katiana Selens (kselens@berkshirehabitat.org 413-442-3181) if you would like to volunteer this Friday. This will allow us to have a proper head count and a suitable number of tasks prepared for the day. Thank you in advance!
Parking update!
We are excited to announce a partnership with Zips Bar and Billiards who will be allowing us to use their back parking lot during build hours. On Fridays and Saturdays, you are welcome to park in the back parking lot of  Zips (191 East Housatonic St, Dalton, MA 01226) as parking is limited on site. Zips is located right beside our property and you will be able to walk from their property to ours with ease.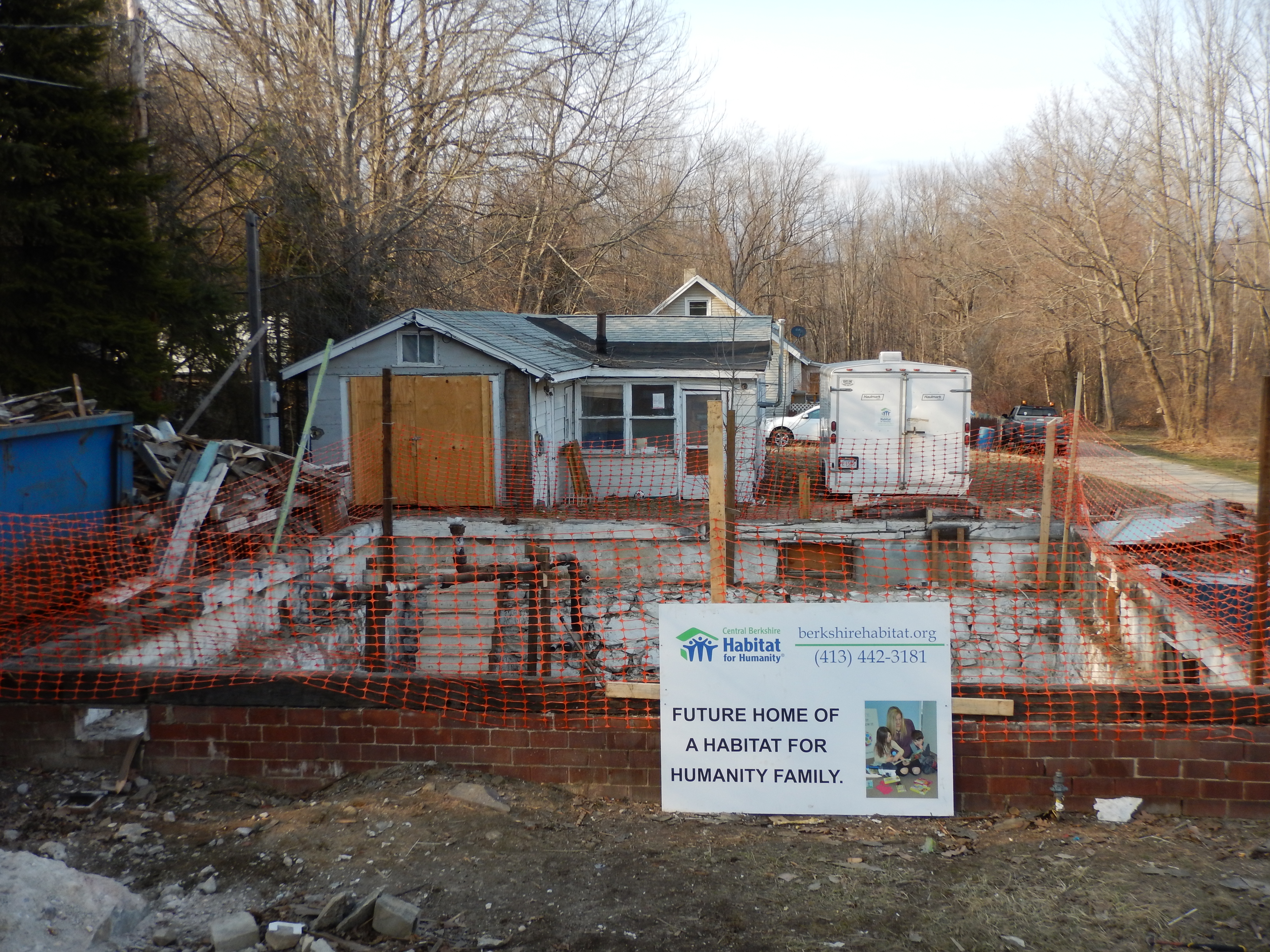 Behind the Scenes
What We've Done So Far
Last weekend our amazing team of volunteers and staff removed the remaining flooring from what's left of the house on East Housatonic. With the floor gone, we were able to remove the furnace and the water heater from the basement. That same day, our Construction Crew Leader, Brian, led a crew to Perlman's with metal scraps from the house and brought agathis wood to the ReStore which will now be available for purchase! It was another excellent weekend of demo as seen in the photo above.
Four Fun Paint Facts 
1) The oldest house paint was made of lime mixed with milk and sometimes natural pigments
2) There tend to be more shades of green than any other in commercially available paint colors because the human eye can distinguish more variations of green than of any other color
3) During World War II, an inventor working for Sherwin-Williams also created a roller brush because the hogs' hair used for paintbrushes was unavailable thanks to the war.
4) It was the Greek philosopher Plato who discovered that you can mix two different paint colors together to produce a third color.
-https://jerryenospainting.com