Construction update as of April 13th-14th
Hello to all! This week we will be onsite working on Courtney's future home!
Where: 199 East Housatonic Street Dalton, MA, 01226
What: This weekend we will be using circular saws and reciprocating saws to cut up the existing floor framing, and we will be disposing of the old house parts and debris in our dumpsters.
When: Friday 8am-noon, Saturday 8am-3pm
How: Please contact our Volunteer Coordinator Katiana Selens (kselens@berkshirehabitat.org 413-442-3181) if you would like to volunteer this Friday or Saturday. This will allow us to have a proper head count and a suitable number of tasks prepared for the day. Thank you in advance!
How to Prepare to Be On Site 
When you arrive on site for 8am it will still be quite cold. As you begin to smash old flooring and pull down the walls it will get hot. So what do you wear to work on site? Layers! Ones that can get grubby and dirty!
Please be aware that while we work to have a tidy and safe site, please wear your sturdiest shoes as there are sometimes nails and debris on the ground that will puncture your shoes. We want everyone to be as prepared and as safe as possible. This means proper clothing and footwear!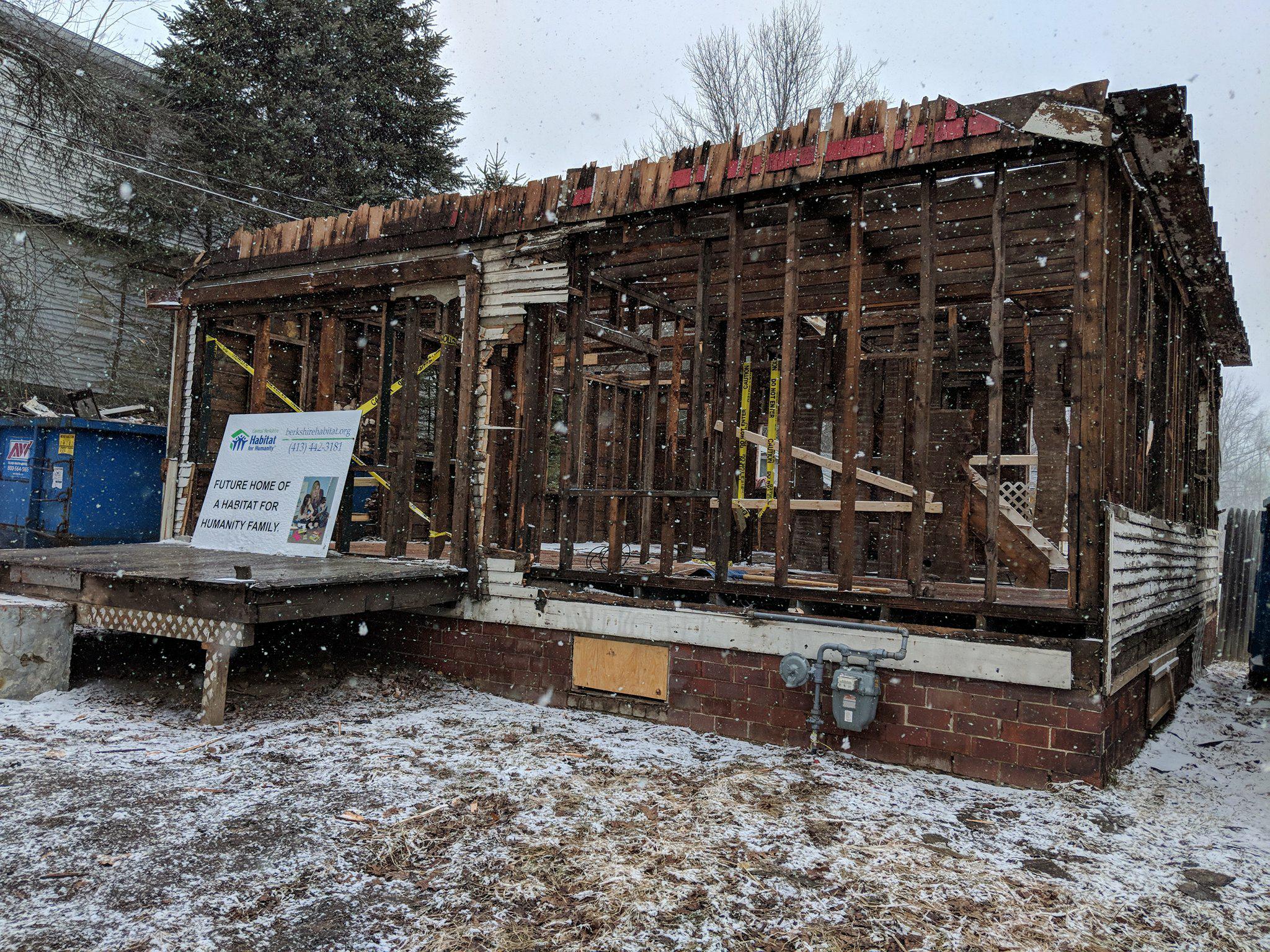 Behind the Scenes
Parking Information
The parking in our current location is very limited and many of the available spots are dangerously muddy right now. We are currently asking that all volunteers park down the street in LP Adam's gravel extension lot. When you pull into the store's parking lot off of Housatonic Street, you will see a gravel extension lot to your right. You are more than welcome to park there. You will then be able to walk up the street to our site (about 1/2 mile) or we recommend finding one vehicle to carpool in from LP Adams. This will limit the number of cars we have on site. Please follow up with our Volunteer Engagement Leader Aliza Mendelowitz with any questions regarding parking or transportation.
LP Adams Address:
484 W Housatonic St, Dalton, MA 01226
Aliza's Contact Information:
412-442-3181
Amendelowitz@berkshirehabitat.org
Four Fun Vinyl Siding Facts 
1) Vinyl siding is engineered with polyvinyl chloride—which is the third most popular synthetic plastic polymer. It was introduced to the market during the 1950s as an alternative to aluminum siding
2) Over 30% of homes in the U.S. use vinyl siding
3) Vinyl siding can expand and contract by half an inch
4) Vinyl siding can withstand winds up to 110 MPH
- "11 Fun Facts About Vinyl Siding (That You Might Not Know About)" by Chris Bilger, 08/17/2016